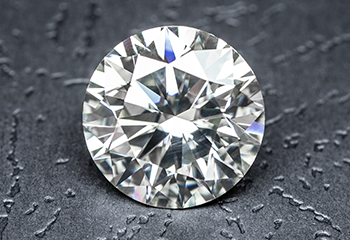 Diamonds
You must be familiar with the phrase. "A Diamond is Forever". Diamonds have been a symbol of love and commitment; known for its rarity, sparkle, durability and hold of value. When you think about engagement rings, the first stone that comes to mind is probably a diamond. That's because diamonds have long been associated with engagement rings and romance. However, diamonds are not just popular because of marketing campaigns. Instead, they are desirable stones for countless important reasons. Diamonds are a hard stone, which means they are incredibly durable. Diamonds are permanent, and the concept of permanent romance is what drives many proposals and weddings. Diamonds also do a fantastic job of retaining their value, making them a smart investment for buyers. Finally, diamonds are spectacular. Their appearance is perhaps the number one reason to buy a diamond engagement ring. Their sparkle, brilliance and beauty are often considered to be unmatched.

The Traditional Choice
The very first diamond engagement ring was given to Mary of Burgundy in the 15th century by the Archduke Maximillian of Austria. This led to the practice of exchanging diamond engagement rings, but it was still a concept exclusively for the nobility. By the 20th century, diamonds became the traditional choice for engagement rings. The phrase, "A diamond is forever," encouraged couples to mark their commitment through diamonds.

Among those who buy engagement rings, the majority of people will purchase a ring featuring a diamond. Although there are plenty of excellent alternatives, diamonds still hold a special place in the hearts of many couples. Some of the most iconic engagement rings in the world featured diamonds, and celebrities like Paris Hilton, Meghan Markle and Kim Kardashian West all wear diamond engagement rings.

Options Within Diamonds
When it comes to choosing the diamond for your engagement ring, you'll have lots of decisions to make. Buyers might need to consider budget, carat size, clarity and color along with the shape and cut of the diamond itself. However, one decision not to overlook is whether to choose a natural mined diamond or a lab grown diamond.

Natural Mined Diamonds
A natural mined diamond, as the name suggests, is one that was mined underground. While it is cut and polished like all commercial diamonds, a natural mined diamond is otherwise unaltered. You can find colorless as well as fancy colored diamonds depending on your preferences and your budget. Fancy colored natural mined diamonds are very rare, with fewer than 0.1% of all diamonds being colored. The scarcity of fancy colored diamonds in shades like yellow, pink, purple, green and blue means that the price is also higher than for colorless diamonds. That's what makes them so appealing to celebrities like Paris Hilton, who wore a yellow diamond engagement ring, or Jennifer Lopez, who received a pink diamond engagement ring from Ben Affleck.

Lab Grown Diamonds
Lab grown diamonds are chemically identical to mined diamonds, but there is one big difference: These diamonds are manufactured in a laboratory setting. In some cases, carbon is crushed at high pressures to recreate the natural way diamonds are created. In other cases, layers of carbon are layered on top of each other to create a synthetic diamond. Lab grown diamonds are appealing to many since they offer a green footprint, are conflict free and are environmentally responsible. Celebs like Leonardo DiCaprio have invested in lab-made diamond companies because of their eco-friendliness.

Lab grown diamonds, just like natural mined diamonds, are also available in colorless or fancy colored varieties. Fancy colored lab grown diamonds are created by adding trace elements during the growth process, making everything from pink diamonds and blue diamonds more accessible to millennial buyers.


Shop Diamonds